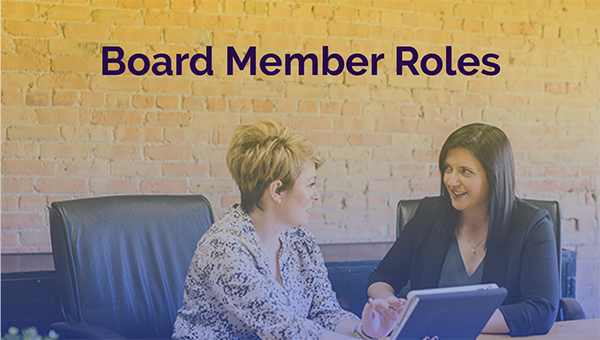 This post explains typical roles on a non profit board of directors or trustees. The board has the collective role of governing the organisation and can nominate someone to take the lead on a particular matter, such as the chair and the treasurer. Board members with special roles are sometimes known as officers. However, even when someone is given a special roles, all board members typically remain jointly responsible for the running of the organisation.
The larger the organisation, the more that day-to-day functions will be delegated to employees. However, in small organisations, it is often up to the board members to both oversee strategy and implement practical actions.
This post explores some of the common roles given to individuals on the board and provides guidance on the specific responsibilities often associated with each role. 
---
Board role descriptions
Chair of the board
The role of chair is to ensure the board spends its time on the issues that matter.
Agenda
Maintain an annual agenda of board responsibilities
Arrange dates for meetings
Circulate meeting agendas in advance
Minutes
Ensure minutes of board meetings are taken, approved in a subsequent meeting, and stored safely
Composition
Coordinate the annual review of board composition and allocation of special roles
Further reading
---
Company secretary
The role of the company secretary is to oversee the legal and governance issues associated with the organisation's corporate and charity structure.
Record keeping
Ensure a well organised and secure filing system for all charity documents, accessible by all trustees
Insurance
Maintain an appropriate insurance policy to cover the activities of the organisation
Companies House
Notify of changes to director details
Submit annual 'confirmation statement'
Submit other necessary filings
Charity Commission (f applicable)Notify of changes to trustee details
Submit Annual Return
Submit other necessary filings
Bank accounts
Maintaining a bank account
Adding & removing signatories
Further reading
---
Health, safety & risk management
The role of health, safety & risk management is to anticipate issues that might cause injury or otherwise damage the operations or reputation of the organisation and put in place measures to mitigate risk.
Health & safety
Maintain and review a Health & Safety policy
ident records and report to the Trustees
Risk management
Maintain a register of risks and mitigating actions
Data protection
Maintain and review a data protection policy
Maintain and review a data storage register
Further reading
---
Treasurer
The role of the treasurer is to manage the organisation's finances.
Financial policies
Maintain and review a finance policy that includes safeguards to ensure accountability
Monitor compliance with the finance policy
Record keeping
Maintain a clear record of all financial transactions
Reporting
Report income and expenditure to the board
Budgeting
Liaise with staff teams to suggest an annual budget
Coordinate Trustee approval of the budget
Annual accounts
Ensure that annual accounts are submitted in a timely and accurate fashion
Further reading
---
Employment
The role of the employment officer is to ensure that the organisation looks after its employees well.
Employment contracts
Maintain a contract template for use with all employees
Ensure all employees have a signed contract
Employment policies
Maintain an employee handbook: a reference point for employment policies
Management
Ensure that all employees have a line manager
Ensure that performance and salary reviews are conducted
Employee issues & grievances
Be the escalation contact for any employment policy related issues or serious grievances raised by employees
Leave
Put in place a system for tracking annual leave
Further reading
---
PR , communications, membership & fundraising
The roles of PR, communications, membership and fundraising can easily be sub-divided if you have sufficient skills on the board. Broadly the role these functions cover is to oversee the externally facing activity of the organisation so that it maintains the organisation's reputation and leads to sustainable sources of income.
Membership
Membership recruitment strategy
Member engagement and communications   
Grants
Identify appropriate grants
Ensure reporting requirements are met   
Events
Arrange member and fundraising events     
Website & social media
Oversee the organisation's online presence
Create a communications plan