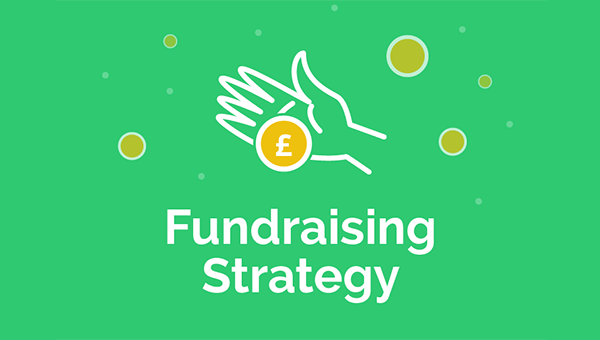 If you work for a charity that needs funding, this post will help you understand more about how to build a fundraising strategy aimed at individuals. We will help you explore the options, understand the pros and cons and build a fundraising strategy to help your charity grow.
---
Different charity fundraising activities
Charities can raise funds from a range of sources and each has its own challenges. Broadly grouped, the sources include:
Individuals
Companies
Trusts and foundations
Local/national government
We've written elsewhere about about grant funding, which typically comes from trusts, foundations and government, and about corporate fundraising. In this post, we'll focus on developing a charity fundraising strategy aimed at individuals.
What is a charity fundraising strategy?
A charity fundraising strategy is a plan that explains how you will go about raising money. When focusing on individual giving, it should cover these five areas:
Goal - how much do you want to raise, what will you do with the money?
Audience - from whom will you seek funds and why will they give?
Message - develop a clear proposition.
Ask - make your request clear and simple.
Method - choose the right activities.
Many charities can develop the strategy in-house but if you don't feel prepared you could consider hiring a consultant.
Goal: what will you do with the money?
By having a clear amount in mind and specifying where the money will go, it makes the rest of your fundraising strategy easier. From this foundation, you can be clearer about what kind of donors to target and the impact the donation will have. 
Example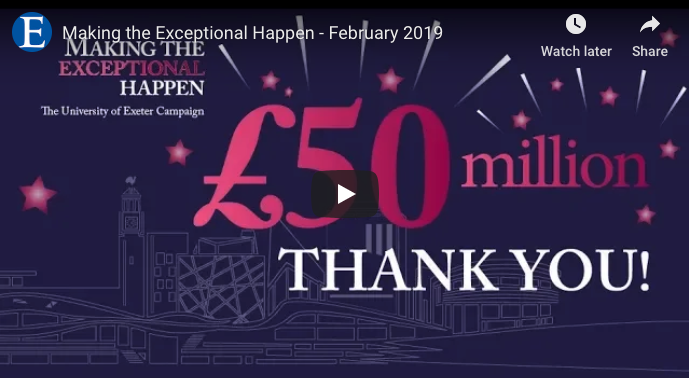 Exeter University focused its largest-ever fundraising campaign around the idea of being 'exceptional', articulated a clear target and celebrated progress along the way.
Audience: people are driven by subjective judgements
Why do people give to charity?
A study from the Centre for Charitable Giving and Philanthropy found that people do not give to the most urgent needs or for objectively rational reasons, but rather they support causes that mean something to them. Based on interviews with 60 regular donors, this study found four key factors at play:
Preferences arising from an individual's social experiences.
Personal and professional background.
Perceptions of charity competence.
The desire to have a personal and noticeable impact.
The biggest takeaway for small charities is to focus at least as much on the donor as on the need you serve. Individual giving by donors is not driven by a detached assessment of need but by subjective judgements based on their own personal experiences.
Example
Movember is one of the classic examples of a charity understanding the need to choose a distinctive audience and tailor its message to the needs and aspirations of that group. 
Message: develop a clear proposition
Articulate your cause in terms that relate to a donor's needs and preferences. Here are some practical tips for crafting your proposition:
1. Target people in your locality
We know that people make subjective choices about the causes they give to. Knowing that your cause is local to them will help get their attention.
Example

2. Provide social proof
People are influenced by what their friends, colleagues and peers care about. Providing proof that people like them are supporting your cause can get their attention, build trust and create the tension needed to provoke action.
Example

3. Demonstrate the impact of giving
People need to feel confident that you are delivering on your promise. Make it easy for them to see that your work is making a real difference.
Example

The Welcome Centre food bank, Huddersfield
Ask: make your request clear and simple
There are lots of common mistakes that charities make when promoting individual giving. It's easy to over complicate things, offer too much choice, not ask often enough or have confused or conflicting messages. Combined with a clear and unified proposition, a clear and simple request can be very powerful.
Here are a few tips on how to ask effectively:
1. Request an amount
Profile your audience to the point where you are confident you know what they would be willing to give. If you're not sure, use trial and error but then settle on a figure. If you do the thinking for your audience and propose predefined options to which they relate, you make the whole transaction easier to complete.
Example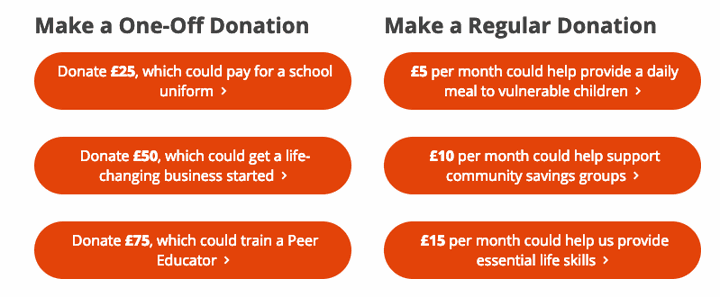 2. Limit choice
Some choice can be good but studies have shown that too much choice can lead to indecision and inaction. Be careful about the methods you offer. It may feel necessary to let people give by cash, cheque, standing order etc. but all this information takes time to process. At the expense of the few donors who may only give in this way, it's often better to promote one, simple digital giving method.
Discover the best ways to take donations on your website
Example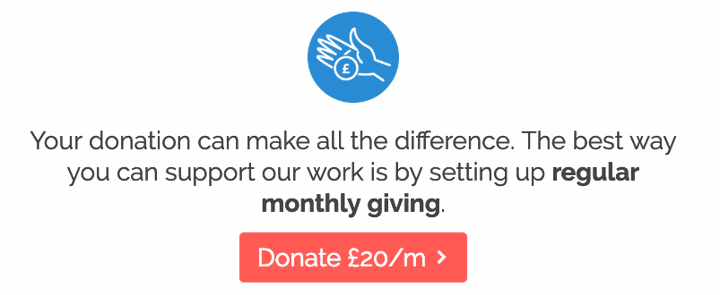 3. Create urgency
Creating a time-limited campaign or appeal is a great way to capture attention around a current topic or invigorate passive donors. It also provides a helpful focus for your message and primary ask. For the duration of your campaign try to keep all communications on-message and pointing to the campaign giving channel.
See examples of great fundraising stories
Example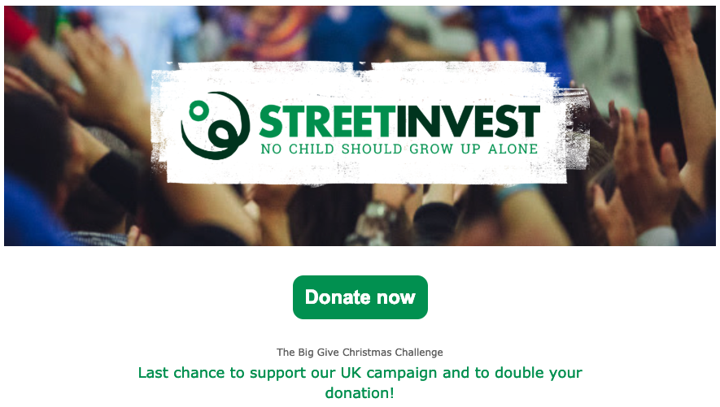 Streetinvest, a charity working with street children, combined the urgency of a deadline (Christmas 2018) with the provocation of matched giving to raise £17,147.50 in just 7 days.
Method: choose the right activities
Fundraising takes a wide variety of forms. You can't be good at everything so it pays to find a few methods that work for you and get good at them. Activities that are more closely aligned with your cause are more likely to be successful. Here are a few fundraising ideas to get you started.
Membership/friendship schemes
Create one or more membership or 'become a friend' scheme and let people join directly online. You can offer a small number of benefits in turn, including access to a member-only portal with special resources or events. The recurring revenue will make budgeting much easier.
Review the most popular membership software in the UK
Email campaigns
Collect communication consent from your audience and build your list of subscribers. Choose a cause, set a target and shape your proposition. Design either a single email or a series of emails that engage around this topic and request a donation.
If your CRM database can segment your audience based on interests or previous activity that can allow you to release slightly different versions of the campaign to different audiences. For example, acknowledging that a recipient has already given within your email communications will make the email seem much more personal and increase the chances that the recipient will respond.
Productions/shows/dinners
While these can be a lot of work to organise, they can raise a lot of money in a short period of time and bring your charity into contact with a large number of new people. As well as the logistics of the event itself, ensure you make it very easy for attendees to give and join your email list.
Sponsored events
You can either arrange events yourself of book spots on a larger event organised by someone else. Once arranged you can promote the event to your supporters and take bookings. People who book can be provided with a fundraising pack.
iFundTools is a great online resource that makes it easy for you to provide a range of branded resources to your audience for this purpose - it's key distinctive is that the individual participants can customise the content to their own sponsored event. 
Crowdfunding
Crowdfunding can be an exciting way to engage your audience in a very specific shared project. It can feel more of a team effort than typical giving campaigns and there are various ways you can engage your audience beyond purely asking for money. 
Learn more about crowdfunding for nonprofits (Wild Apricot)
Learn and adapt
Ultimately it will be hard to find the most effective tactics without trying a few. But avoid biting off more than you can chew. Better to put a large amount of effort into a smaller number of activities and then take stock. If they worked well, double down. If not, try something else.
Download fundraising strategy example template
User this free fundraising strategy example template to plan your own individual giving strategy.