Branding and logo design requires lots of research, revisions and stakeholder engagement. If you are after charity logo inspiration this post will provide both ideas and practical guidelines for your project. We also include example charity logos.  
Your process should match the challenges you face. Larger organisations will often need more time and more people involved. This post focuses on designing logos for small charities or similar organisations with a small budget. These practical tips will help you quickly create a great logo that works in a wide variety of contexts.
Keep it simple
For most small charity logos, it's best to keep things simple. This will save time in the future and help the logo to last longer.
Simple logos with less detail are proven to be more memorable than complex ones. Brand recognition is an important component in your growth as a charity so if you can create a simple logo that is easy to remember it will help a lot.
Example

The artwork for the new logo is much simpler. Although it's quite abstract it is easier to interpret, especially at small sizes.
Make it work small
Logos need to work well in various sizes. If it works at small sizes it will work at large sizes, but not necessarily the other way around. Many common use cases will render the logo small (think website, mobile, letterhead and business cards). It's much easier to up-scale something simple than to shrink something complex. 
Example

The logo has a variant using the acronym and the icon alone can work well at very small sizes.
Make it work in one colour
A logo that works in monochrome is more versatile than one that requires colour or shade differentiation. If your logo is monochrome you can be confident it will work in black and white printing and you can easily create a transparent white version to overlay on a photo or complex background without the logo losing impact.
Example

This logo is two-colour in it's primary variant but it can work well in one-colour too when required. This is especially useful if you want your logo to work well against a plain colour or overlaid on a photo.
Don't embed a strap line
A strap line or mission statement is an important part of your communication plan but resist the temptation to embed it into your standard logo.
You may want to tweak your strap line in the future so keeping it as accompanying plain text gives you more flexibility. As your logo becomes smaller the strap line will be increasingly hard to read.
Example

It's OK to have a strap line as part of your logo but make sure it also works well without it.
Landscape orientation as standard
Logos come in all shapes and sizes and it can be appealing to try to do something different to stand out. However, as a small charity, you need to pick your battles carefully so we recommend adopting the most common approach, which is a landscape orientation with roughly a 4:1 ratio. A charity logo of this shape will work well in almost all circumstances.
Example

This logo has roughly a 4:1 ratio, width to height. This proportion works well for most logos that contain an icon and the organisation's name.
A square variation
The other shape that is increasingly important is square. You'll need this for your social media profiles. It is difficult to make a landscape logo fit nicely inside a square so having a different version, for example just the icon, is a good approach for this purpose.
Example

The icon for this logo can be used on its own in a square format at small sizes.
Minimise variants
A small number of variants of the logo can be useful to preempt unusual situations. But try to avoid too many as it will make your brand harder to manage and dilute the impact of your logo. 
Example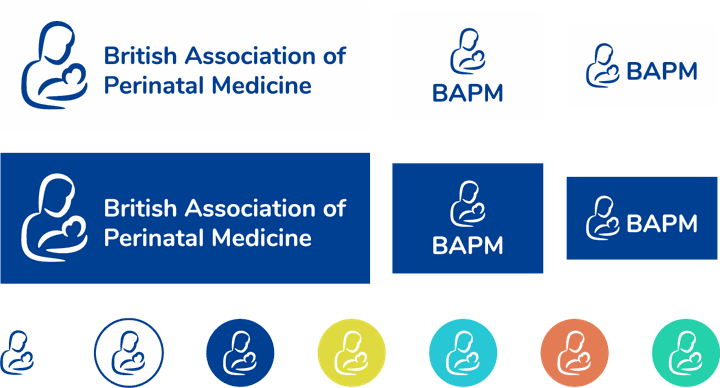 This brand identity has extensive possibilities for logo variants. Limiting to just the ones shown here, and only using the secondary colours when using the icon on its own, helps staff know how to use the logo and maintain brand consistency.
Keep your name short
If you are in need of a logo you may also be finalising your name. There are lots of important considerations when choosing a good charity name; how it appears in your logo is one of them. A short name will:
make it easier to recognise at a glance
give you a wider choice of fonts
make it easier to read at small sizes
give you more creative freedom with the composition of the logo
With a long name, you may find yourself considering using the acronym as your main logo, which makes it much harder to establish your identity with new people.
If you have the luxury of renaming your small charity, find something short that conveys some meaning but don't try to communicate everything through your name.
Example

The previous name for this organisation was long and unwieldy. The new short name means that the primary version of the logo can be used in most cases without needing to reduce it to an acronym.
Free online software to design your logo
This free online software will help you put your charity logo inspiration into practice quickly and cheaply. Here are a few good options you could try.