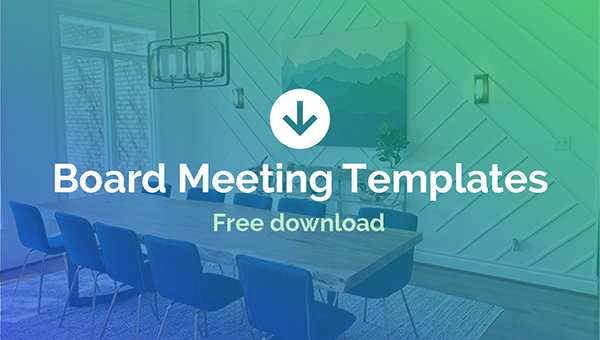 This post will help you run more efficient trustee and board meetings with a range of practical tips and free meeting agenda and meeting minutes templates. 
---
Building a good board
Board meetings are only ever as good as the individuals involved so the first step to running a great meeting is ensuring you have the right people in the room. 
Understand the roles needed
Get a good skills mix - our skills audit can help highlight gaps
Maintain buy-in - you don't want half-hearted trustees
Define roles - everyone should know their unique contribution
How often to hold board meetings
The frequency of meetings is a matter for the organisation but it is important and is generally set out in the your governing documents. If it isn't, consider adding it. 
Even when an organisation has an active membership, most meetings through the year will be only for board members. Here is an example schedule for a small membership organisation:
Members meet once per year
Trustees or board meets every two months
Employed managers meet every month
Can we meet remotely?
Until recently many boards felt that face to face meetings were crucial. However, even before the pandemic changed this, many large and well-run organisations routinely used video conferencing technology to facilitate remote board meetings. Making this your standard approach, perhaps with one or two planned face to face gatherings through the year, can widen the pool of potential board members or trustees and reduce inefficient travel time. However, if you choose to hold meetings remotely it is important to ensure you have invested sufficiently in technology and training as inadequate tools can disrupt a remote board meeting. 
Meeting agenda template
All good meetings start with a good agenda. This should cover:
Location or joining instructions
Start time and duration
Key items for discussion
Who is responsible for each discussion item
Where to find documentation for the meeting 
Download the free agenda template
---
Meeting minutes template
A good set of minutes is another crucial part of any well-run meeting. 
Do
Note attendees and their roles

Record important decisions clearly
Highlight actions clearly
Don't
Record the entire discussion

Bury actions in long summaries
Specific items to include are:
Type of meeting
Date and time
Who attended and in what capacity
Notable absences
What was discussed
What was decided
Decisions made
Download the free minutes template
---
How to share documents
When sharing documents among charity trustees there are typically three key concerns:
Security: documents may contain sensitive information.
Ease of access: digital competency may vary.
Efficient collaboration: can several people edit at once?
Many boards still circulate documents by email in a desktop format (i.e. Word or Excel) but we recommend that boards consider more modern file sharing systems that increase security and allow real-time collaboration. Leading examples are Office 365, Google Docs and Dropbox. Read more about these systems in our post on discounted software for charities.