This post is about creating an integrated communications strategy for your charity: a daunting task! This post gives some big picture guidance to help you evaluate your work to-date or, if it's all new to you, help you get started. If you want a more step by step guide you may find our guide 'Creating a communication plan' with free template even more useful.
What does it mean to have an integrated communications strategy?
The first step to integration is to understand your existing systems.
It's likely that in one way or another you deal with some or most of the following:
Website (general organisational information)
Blog
Email newsletter(s)
Paper magazine or newsletter
Direct mailing
Facebook
Twitter
YouTube
Having an integrated communications strategy means that you understand how each of these types of media relate to each other and you have a plan that ensures they reinforce and complement each other.
Understand the purpose of different channels
Before you get too far trying to integrate different communication channels you need to have a clear understanding of the strengths and distinctive features of each channel. This stops you from mistaking 'integration' with 'using everything'. It's not often wise to simply duplicate the same content in every channel and having a largely dormant account can be worse than having no presence at all. If you can understand the distinctiveness of each channel you will be better placed to integrate them successfully.
Blog
Your charity's blog should be linked to an individual author, or multiple authors each credited for their posts. The blog should promote discussion through interesting thought pieces, personal opinions and comments. 
News
If you have a news section on your charity's website this should carry organisational news (awards you have won, projects you have launched, etc). This content is typically more factual and written anonymously. Ideally, this will be set-up so that the content is picked up by Google News.
Email newsletters
Email newsletters are great for promoting specific events, highlighting website content and driving traffic back to your website.
Paper magazine or newsletter
Engaging a non-web audience is still quite important. It can be costly and time-consuming so it is becoming increasingly important to target these kinds of communications very clearly (for example at older users). Your content should also be tailored for this medium with longer articles and stories that website users may not have the patience for and items that user might keep (bookmarks, calendars to stick on the wall, etc).
Social media channels
Facebook, Twitter, LinkedIn and other smaller or more niche social networking platforms have distinct qualities. Don't assume you need to engage with all of them - it depends on your audience and what you are trying to achieve through engagement.
The roles in your team
Who is on your team? Even if it feels like you are wholly responsible for your charity's communications the chances are others will get involved at some point. Even people fundraising for you will do a remarkable amount of advocacy on your behalf as they hassle their friends into sponsorship. The more people you can get involved the better, but more people also makes it harder to maintain control.
Consider mapping out the different roles in your organisation. This alone will help you to think clearly about how to manage your team more effectively. Here is an example you could copy:
Comms manager
Role and contribution: brand guardian; proof read all content
Resources required:
External agencies
Third party online resources
Brand guidelines
CEO
Role and contribution: thought leader through blogs
Resources required:
Blogging guidelines
Blogging schedule
Comment and twitter training
Volunteer
Role and contribution: write more general blog posts and organisation news
Resources required:
Brand guidelines

Tone of voice guidelines

Topic guidelines
Fundraiser
Roles and contribution: recommend organisation to friends
Resources required:
Fundraising platform
Email template
Organisation summary
Understand the shape of the year
Planning is crucial to integration. Step back and look at each year as a whole. What are the big events that will shape your communications? Is there an awareness week or other national campaign you usually get involved in? Are there times when funding applications or other operational issues squeeze the amount of time available for communications?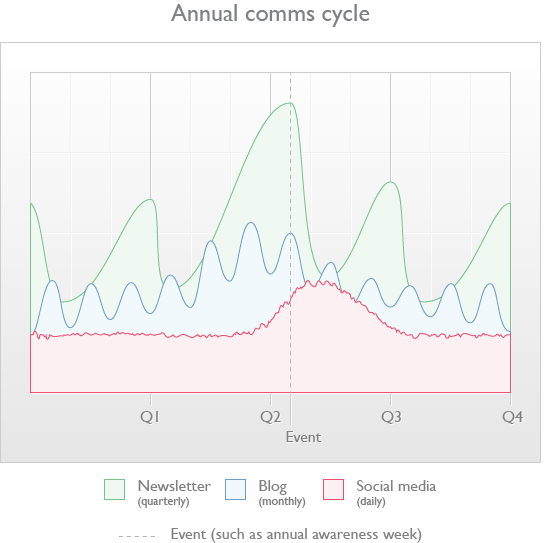 Key Performance Indicators
Last but not least, ensure that you are tracking your progress.
Tracking progress not only justifies all of your work to others but it also helps keep you motivated and focused on strategic goals. You should tailor your 'KPI's to your organisation, but we recommend reviewing them on a monthly basis, ideally with a wider team in the organisation.
Here are some suggested KPIs you could track regularly:
Website
Number of monthly unique visitors to your site (get this from Google Analytics)
Time spent on site
Goal conversion rate (if you have set up goals)
Number of new blog posts
Twitter
Followers
Number of tweets retweeted by others (there are also some tools out there like TweetReach which give better measures of impact)
Facebook Page
Reach & engagement (from the Facebook Insights page)
Email newsletters
Number on mailing list
Number of newsletters sent
Average open rate
Average click rate
Donations
Number of one-off donations
Number of new regular donors
Value of one-off donations
Monthly value of regular donations
These KPIs should be tracked in a spreadsheet format so that you can easily compare month on month and see progress.
You should then plot these figures against your year plan and dig into the impact the different activities have had on your key performance indicators.
There are obviously loads of other ideas and techniques out there. If you've found this helpful then why not join the discussion and add your thoughts below? And if you want to read more check out our guide 'Creating a communication plan' with free template.