For years Google supported non-profit organisations in the US by providing free access to its powerful Google Apps system (now called Google Suite). Google Suite is a modern suite of software used by many charities. UK charities used to be excluded from Google's free scheme but since 2014 it's been available in the UK too.
Even better, the consolidated Google for Nonprofits UK scheme now also includes grants for advertising using Google Adwords (now called AdGrants). This free advertising was previously available separately under the Google Grants scheme. By bringing these services together the Google charity offering has become clearer and easier to access. 
How to get free access to the Google for Nonprofits UK scheme
Application process
You can check your eligibility on the Google for Nonprofits site (or see below). You then complete an online application and await approval. Once approved you can start rolling out the system for your organisation. 
Eligibility criteria
Google provides the following eligibility guidance:
To be eligible for the Google for Nonprofits programme, organisations must:
Be registered with the Charity Commission for England and Wales as a charity.
Acknowledge and agree to the application's required certifications regarding nondiscrimination and donation receipt and use.
Please note that the following organisations are not eligible for Google for Nonprofits:
Governmental entities and organisations;
Hospitals and other health care providers
Schools, childcare centres, academic institutions, and universities (philanthropic arms of educational organisations are eligible). To learn more about Google's programmes for educational institutions, visit Google in Education.
Google reserves the right to grant or deny an organisation's application or participation at any time, for any reason, and to supplement or amend these eligibility guidelines at any time. Selections are made at Google's sole discretion and are not subject to external review.
What is Google Apps/Suite?
Google Apps is a powerful suite of online collaboration tools that allows your organisation to manage its e-mail, calendar, intranet and documents online. At the heart of the system is a company specific Gmail system that will bring your charity's email entirely into the cloud. Another key offering is the Google Docs platform which offers a full office suite including word processing, spreadsheets, and presentation software. The full list of service is huge - most services offered by Google are also open to Google Apps users.
How is Google Apps email different to older systems?
Many people have become familiar with the software they install on their computer directly, like Microsoft Outlook or an equivalent desktop application, to manage e-mail and calendar functions within their organisation. The problems with using this type of solution are:
it requires a local area network (which can be a demon to set up!); and
you are tied to a particular computer and cannot easily access your e-mail or calendar easily from other phones and devices.
Is it right for your charity?
The positives
Google Apps stores everything online. This means that all your staff need is a computer (or mobile device) with an internet connection and they can have full access to e-mails, calendars and documents.
Another advantage is that your users may well be familiar already with the Google Mail and Calendar interfaces.
Also, because everything is stored online, it cannot easily be deleted by a virus or hardware failure on an individual computer.
The negatives
An obvious disadvantage of having all of this crucial and regularly accessed information stored online is that you always need an internet connection to access it.
What are the alternatives?
While Google was the first to build a really good suite of web-based office tools, there are other options. While slow to catch up, Microsoft now has a similar web-based offering called Office 365. Microsoft Office 365 also offers charity discounts. 
What is Adwords and the Google Grant for advertising?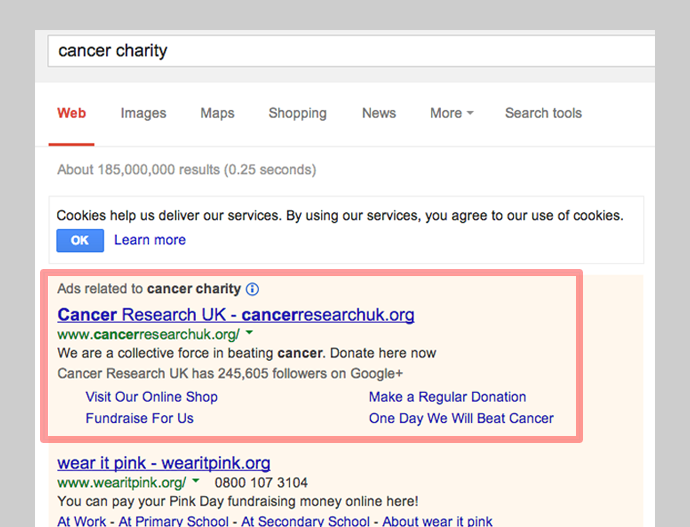 Adwords are the adverts you see when you search for something on Google. They are based on keywords that are preselected by the organisation or product being advertised, so they reach a market already interested in their work. The advertiser is charged per click, so Google has an incentive to make the adverts as effective as possible.
What do AdGrants offer?
AdGrants give charities the chance to advertise for free, up to a limit of $10,000 per month (around £6,200). 
The only downside to this is that there is a limit of $2 per click, so expensive keywords are out (e.g. charity run). However, some clever wording and promoting of events with less common key words mean there are lots of ways around this. There's a handy tool here to work out how much each keyword costs, but you must be logged in and registered to use it.