Improve your charity photography by commissioning your own photo shoot. Get ideas for group and individual shots for use in promotional material. Find the best charity photographers and it cheap by managing the photo shoot well. 
How to choose a photographer
There is definitely a place for amateur photography in your marketing. Celebrate amateur and gather as many snapshots as you can from events, volunteer days, conferences etc. When it comes to commissioning specific photos, however, don't be tempted to go with a cheap amateur option. You need someone you can rely on to get the job done. Choose someone who:
Lives locally so they can be free on multiple days if necessary.
Has a proven portfolio of the kind of images you want.
The ability to bring creative ideas as well as fulfilling your brief.
How to brief a photographer
Once you've chosen a photographer, you need to tell them what you want, to a good level of detail and provide your brand guidelines. The nature of your organisation and the work you do could dictate the style and content of your photos but for most charities, the following will apply to some extent.
Convey your objectives
Get the photographer on board with what you're trying to achieve as they may have alternative ideas of how to meet your objectives. For example:
We need to make our overall communications more vibrant and energetic to fit in with our new brand identity. Success from this shoot would be twenty really different, timeless images that we can use over the next 3 years in all our communications.
Show them how you will use the photos
Showing your photographer your charity's website and showing them how you will use their photos allows them to be creatively involved in the project and help design photos that are fit for purpose. It's more satisfying for them and you will get much better results. For example:
Here is our website, see how the case study images need to be landscape photos of individuals and how they'll be quite small on mobile. We need people's faces to be clearly visible.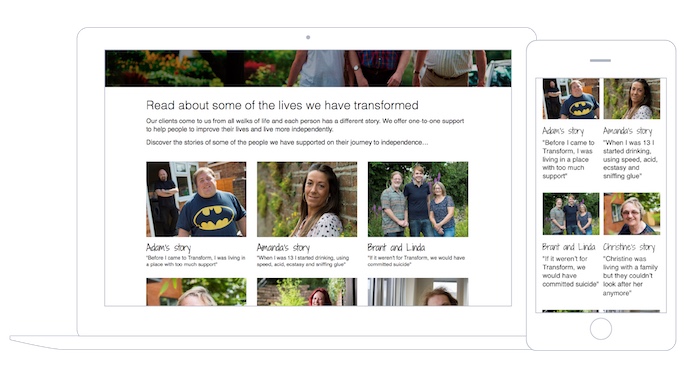 Show examples of what you like
Do some research and show the photographer things you like. You could use web apps like Unsplash or Pinterest to gather images or explore other great charity websites. Explain specifically why you like these photos. For example:
See how this one has a really warm feel because of the lighting and the time of day. And how this one looks real and emotional, not like a stock photo at all.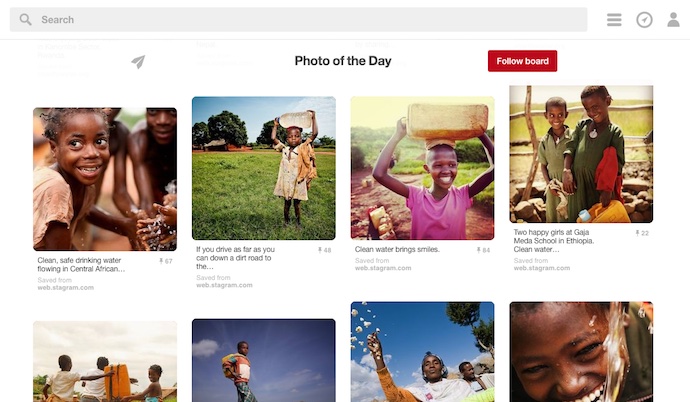 Sketch a template of the ideal composition
The composition is very important when you are planning to combine photos with text and other elements online or in print. Plan where you need your negative space to be in each of your main use cases and give the photographer a sketch they can have to hand while they shoot. For example:
See how we need to have loads of space around the subject here so that the banner can easily scale and crop without losing parts of the image. Make sure you shoot nice and wide capturing loads of background so we've got a lot to play with.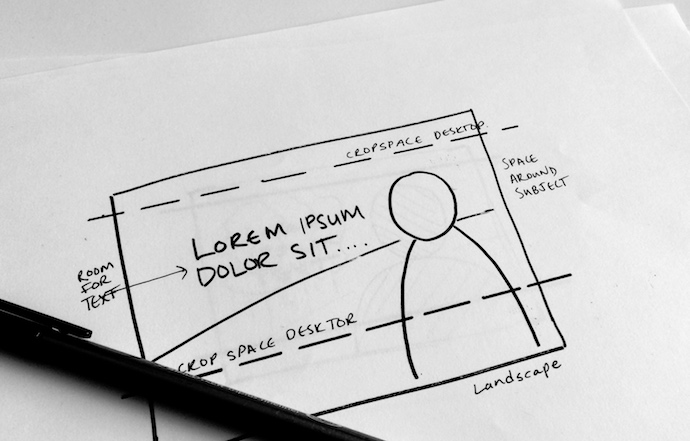 Specify a shot list
It may seem obvious to tell the photographer what to take pictures of, but it does actually bear some thinking about. There's a lot of detail here that can get overlooked. You want to take photos of people, great. Do you want them on their own, in groups, smiling, looking serious, engaged in an activity, looking at the camera (or not), standing, sitting, indoors, outdoors…? the list goes on. Think here about your content strategy and what photos you may need in the future. 
Think about what you want in your final composition as well as what's going to be most versatile for future use cases you haven't yet planned and be specific. For example:
We want an individual portrait of each of our beneficiaries. We want at least three shots of each person in different compositions. We need one landscape with the subject to the right that we can use for banners, one square and closer up that we can use for case studies and one full length portrait that we can use in our annual review. All the photos should be outside with generic, plain backgrounds. We want them looking at the camera, smiling, relaxed and informal.
You can see that before long, if you have multiple shoots you may find it helpful to have a spreadsheet or master list where every version of every photo is listed and can be ticked off.
Specify colour and tone
Bright colours can draw a lot of attention in a final composition. This is not necessarily a bad thing but be deliberate with it. If you take 12 portrait photos for case studies and one subject is wearing a bright red t-shirt, when you place all these photos on the page that case study will draw more attention. You could choose to have all your subjects wearing bright colours, or none of them, or the 3 you want to prioritise could be in bright colours.
Spot the red t-shirt!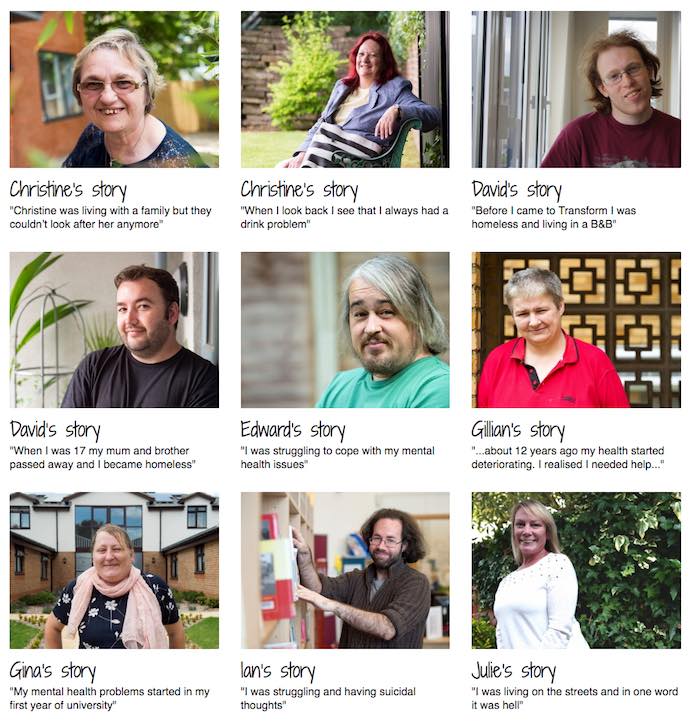 The overall lightness/darkness of the photo will have an impact on how it can be used in compositions. Often photos with darker tones work better in banner images as it's easier to overlay white text. Capturing images with sky, reflections, bright lights or white objects can make them a lot harder to use.
So here's an example of what you might specify:
We've asked all our subjects to bring a brightly coloured top, a black top and a grey top. This will give us the flexibility to create different sets for different purposes. We will use the bright photos on our website and the grey/black ones in our annual report.
For the group photos of volunteers at work we need to make sure there is enough negative space on the left of the photo for white text to be placed and we need to make sure the overall tone is dark enough and simple enough for that text to be readable.
Let's make sure we get some group volunteer photos WITHOUT everyone wearing high vis vests.

Ask about image treatment
Check what kind of editing practice the photographer has. Do they tend to apply much treatment to images? Are there any options for how the images will be delivered? You may want to specify a relatively unedited style or you may be able to agree on a look that you like. If you want to have a go at in-house editing, remember that charities can get a discount on Adobe Photoshop.
How to prepare for your photo shoot
Armed with your brief, the photographer should be stoked about the job. Never before have they has such a clear set of instructions. Constraints are good because it reassures them that they are getting what you want and it's easier to get creative within those constraints.
Your job now is to prepare everything to ensure the photographer can focus on their job on the day.
Book locations, transport, parking and food
Make sure you know where your photos are going to be taken. Book rooms, buildings and parking arrangements. Check the weather, have a wet weather plan and find out if public spaces are likely to be fairly free when you need them. If you're on the move make sure you've got transport for people and food if it's going to be a long day. Where possible, minimise travel and if you do have to travel, make it just you and the photographer. Try not to ship 20 people around the county, go to them if you can.
Book your subjects
Make sure your subjects know what they're doing, where to be and when and what to bring. Tell them what to wear and how many changes of clothes to bring. Make sure they have the right expectations. This probably won't take 5 minutes, you'll likely need an hour of their time. If you want to get group photos make sure you have time for the people to get to know each other and connect beforehand so that they can feel at ease when the shoot starts.
Plan to get everything done in one day
Your needs will dictate what's possible but the point here is to plan well and get everything ready for an efficient shoot. Plan for a hard day's work to get the most out of your photographer and subjects. The only reason why multiple days should be necessary is if you have different locations across the country or specific time-based events happening.
On the day of the shoot
Enlist a volunteer assistant
There's a surprising amount of legwork that can need doing such as shifting furniture, lights and equipment or running to update the caar park ticket. They can also help to look after people and make them feel at ease. If your assistant is good at chatting to people and creating a fun atmosphere that will help a lot.
Watch out for things that will date the photos
Keep an eye on what's in shot, foreground and background. Unless it's important for conveying the key message of the photo avoid capturing things like phones, computers or cars as these can date your photos. Even clothing can date a photo so suggest your subjects wear simple, classic clothes if possible.
Avoid capturing writing in photos
Unless it's crucial, avoid capturing anything written for two reasons.
You can't flip a photo that contains writing. Flipping can be really helpful when it comes to creating a composition.
Writing makes it really hard to overlay other text onto the photo, the two will conflict or compete for attention. If you need to have text, overlay it afterwards rather than having it embedded in the image.
What to do after the shoot
Once you're all done you'll have to wait for the photographer to edit your photos. Here are a few tips for how to handle this stage.
Ask for a date when the photos will be ready
Agreeing a deadline stops you feeling the need to hassle the photographer during this period and it also gives them a clear milestone to work to prevent things from dragging on.
Retain part of the fee until photos are delivered
The best solution is for the photographer to send you low res proofs for you to sign off, then you pay, then you get the full res files. This just gives you a little bit of a chance to check they've captured everything you need before paying the final balance.
Ask for multiple sizes of your images
This is very easy for the photographer to do, even if you haven't agreed to it up front so don't let them charge you extra to do this. They can process images out to whatever size you need. You will want the full res versions of file for sure as these will be useful in large-scale print work. For most situations, especially online, you will need lower resolution versions. We recommend the following file sizes.
Full resolution: probably > 4000px across and > 6MB in size
High: 2400px wide, suitable for small scale print work
Medium: 1400px wide, great for website banners
Low: 600px wide, suitable for in-page images and thumbnails on your website