Every year charity shops raise around £300m in the UK. The model of selling second hand, donated items has been very successful. There are, however, significant barriers to entry for smaller charities including a lack of expertise, capital, access to premises, volunteer time, etc. In this post, we explore how you can start to generate charity shop revenue online through eBay without setting up a physical high street presence.
How small charities can cash in online
The last 20 years have seen a major shift towards online retail. This has had a huge effect on the whole retail sector and the second-hand market has not been unaffected. As always, disruption brings with it new opportunities.
The major player in the second-hand market in this period has been eBay who has effectively matched sellers and buyers, somewhat undercutting a key function of the traditional charity shop. The online second-hand marketplace provides an opportunity for enterprising charities to develop a second-hand trading business without any of the typical overheads.
So how do I get my charity ebay shop online?
While eBay is clearly keen to maintain their own profit margins, they are also supportive of charities and non-profits and make it remarkably easy for charities of all sizes to use their platform to build up de-centralised trading activities. Here are the steps you'd need to take:
1. Register with Paypal Giving Fund
The first step is to get your organisation registered with Paypal Giving Fund. This process will set up the infrastructure to ensure that online sellers can easily channel revenue to you.
Enrol for Paypal Giving Fund here. Every charity enrolled with Paypal Giving Fund will automatically have a presence on eBay.
2. Recruit a band of sellers
Next, get your supporters involved. We suggest gathering a group of volunteers who are interested in the idea of trading and keen to use their interest, skills and time to support your charity. You will need to invest some time explaining the model and getting people excited. You may even have some keen eBay-ers in your support network already so seek them out.
Your sellers will be expected to be a representative for their relatives, friends and community who have excess stuff that has some value. The seller will then sell the goods on eBay on behalf of their friends and send a portion of the proceeds to your charity.
Find out more about selling to benefit a non-profit here
3. Get your volunteers set up on eBay for Charity
eBay for Charity is a flexible scheme that allows your volunteers to sell goods on eBay and transfer a portion of their earning to you. This flexibility is great - some volunteers will want some compensation for their time and expense while other may choose to transfer all proceeds to your charity. Either is fine. Much more important is that volunteers enjoy what they do because this will build a sustainable network of volunteers.
If you gain traction you may want to reward volunteers who give over a certain percentage with some kind of recognition but we'd recommend you keep it simple to start with and let volunteers choose how much of the proceeds they keep and how much they pass to you.
4. Promote and nurture your network
As with all fundraising activities, sustaining a network of eBay sellers will take work. While this approach avoids any big capital expenses, leases, or employees, it will still require focus and work.
5. Consider your own official eBay shop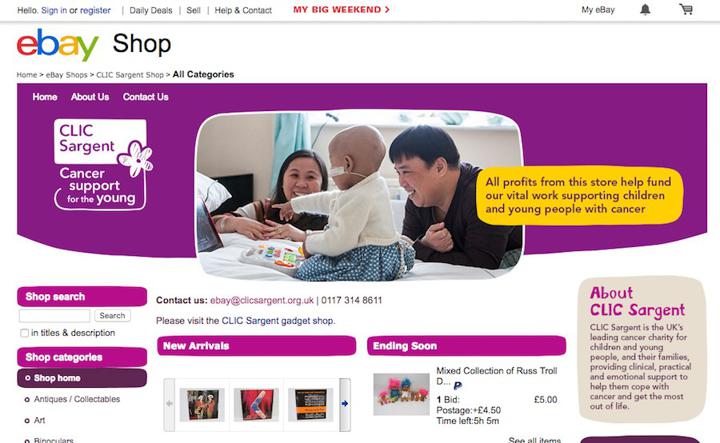 If your experiments in online trading go well, one next step would be to set up your own official charity shop. You may start selling branded merchandise or if you like the idea of building a physical charity shop network in the future you could try this out by starting to collect donations and sell them through your eBay shop. CLIC have done this successfully by using the e-bay shopfront while still maintaining their own brand and using graphics to display where your money can go.
Other charities using e-Bay include Cancer Research UK, NCBI, Oxfam and British Heart Foundation.
eBay also has some helpful guidance here on running special auctions. If you have celebrity supporters who can provide interesting merchandise this could be a good fundraising tactic.